About NAPAC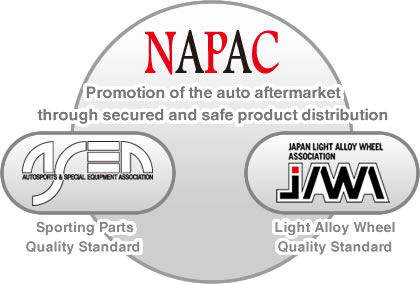 NAPAC stands for Nippon Auto Parts Aftermarket Committee.
NAPAC was founded on November 18th, 2014 through integration of two corporate entities that respectively promote auto aftermarket parts, i.e. ASEA and JAWA.
Founding Purpose
NAPAC makes efforts to accelerate new member registration among business associations and both corporates and independent business owners in the industry in order to sort out and consolidate various voices and requests in the auto aftermarket goods and parts industry, which can be reflected rightly in its collective lobbying activities to relevant administration bodies.
Business Objective
Conduct various businesses including research and survey required to promote the Japanese general auto parts and aftermarket auto parts with an ultimate objective of contributing to safety and further development of the automobile society.
Chairman's greeting
Under Construction.
Corporate Overview
NIPPON AUTO PARTS AFTERMARKET COMMITTEE
(日本自動車用品・部品アフターマーケット振興会)
ADDRESS

8-1-14,Nishigotanda,Shinagawa-ku,
Tokyo 141-0031
TEL
03-5437-6881
FAX
03-5437-6882
URL
http://www.napac.jp
Organization
Directors of NAPAC
Chairman

Nobuhide Tachi

Vice Chairman

Mineo Takase

Vice Chairman

Keiichiro Nakashima

Executive Director

Fukazawa Hiroshi

Director

Ryosuke Abe, Kazunori Tanabe, Takayuki Terada, Tsutomu Nagaze, Isao Hanazato, Shinichirou Maekawa




Auditor

Hiroshi Yokoyama, Teruaki Yamamoto

Planning and Public Relations
Committee Member

Hisato Kawabata, Toshikazu Sukagawa, Ryusaku Hitomi, Mineo Takase, Isao Hanazato

Secretary General

Toshiyuki Ohba
Officers of Business Unit
ASEA Business Unit
Business Unit Head

Mineo Takase

Business Unit Vice Head

Nico Röhreke

Business Unit Vice Head

Isao Hanazato

Business Unit Vice Head

Tsutomu Nagase

Chief of General affairs


Hiroshi Fukazawa

Consultant

Hiroshi Kamiyama, Shuji Suzuki, Tomoko Takama, Ryusaku Hitomi,
Haruto Yanagida, Satoshi Yamaguchi

Secretary

Yuji Akaboshi, Ryosuke Abe, Masahiko Ida, Masahiro Ui, Akihiro Okumura,


Tadashi Okuyama,

Yasuhiro Ogura, Hiroyuki Kashiyama, Shizuo Shimura,


Toshio Sukagawa

, Shinichiro Maekawa, Naoki Minorikawa, Isao Fujitsubo,


Kazuhide Yasui,

Hiroshi Yokoyama

Auditor

Ryuichi Nagai

Senior Advisor

Nobuhide Tachi, Teruo Katsuta
JAWA Business Unit
Business Unit Head

Keiichiro Nakasima

Business Unit Vice Head

Kazunori Tanabe

Business Unit Vice Head

Takayoshi Terada

Consultant

Ryosuke Abe, Yoshikazu Izumiya, Norihiko Inazuma, Kenji Imai,Kunitoshi Kariyado,
Kiomi Kobayashi, Toshikazu Sukagawa, Shinji Tanaka, Chika Tanaka,Tetsuya Nakao,
Shin Hosyuyama,Shinichiro Maekawa, Akinobu Yamazaki


Auditor

Akihiro Uchiyama, Teruaki Yamamoto

Senior Advisor

Kazuo Funado, Junichi Suzuki, Masumi Shiba
(in random order with titles omitted)
13th Business Report
Attended "TOKYO AUTO SALON 2017 with NAPAC" providing relevant member services
・Held at Makuhari Messe 13th thru 15th January, 2017 – used by approx. 750 members
Attended "Osaka Auto Messe 2017" providing relevant member services (by JAWA Business Unit)
・Held at Intex Osaka 13th thru 15 February, 2017 - used by approx. 230 members
Organized "New Year NAPAC Meeting" (NAPAC New Year Greeting Exchange Ceremony)
・Held at Hotel New Otani Makuhari on 13th January, 2017
・Attendees: 151 people from 91 member entities and 101 guests and press…Total 252
Publicity on NAPAC's activities
・Notification of quality certification and standard registration cert seals through organizing NAPAC race track meet events and other media such as magazines
Promoted "Creative Tokyo and Cool Japan" initiatives
・Exposure of the Japanese car customizing culture to the world – continued from the 9th business year
Cognitive of "Auto-Parts Day (2nd August)" initiatives
・Held an "Auto-Parts Day gift campaign" in cooperation with APARA on 1st thru 31th August, 2017
Market survey and sales performance research by the both business unit
Participated in campaigns to chase away illegally modifies cars
・In annual campaigns held in June, distributed posters and leaflets to let the concept of the movement universally known
Took part in "Traffic Safety Fair" sponsored by (General Foundation) Automobile Business Association of Japan
・Participated in the event as a member of the association
Participated in periodical meetings of Automotive Aftermarket Action League (AAAL) to support their actions.
・As a trustee entity of AAAL that consists of 7 corporate groups in the industry, organized periodical meetings and extra opinion exchange and explanatory sessions as needed in conjunction with other entities. Held existing four committees (compliance,sporting,Car wash Day and consider the overseas study tour) and proactively supported each activity. Planned "Detroit / Las Vegas with SEMA" tour in October last year and Planned "ESSEN Motor Show" tour in December in the same year in which 23 and 14 people participated respectively where they could see trade shows, factories and other facilities. They also had opportunities to exchange opinions and information with other industry entities overseas to share their respective knowledge.
Member recruitment
Information exchange with relevant regulators and entities
・The secretariat acted as a window to visit and communicate with the Ministry of Economy, Trade and Industry, the Ministry of Land, Infrastructure, Transport and Tourism, and (Independent administrative body of) National Agency of Vehicle Inspection for information gathering and opinion exchanges.
Facilitation of communication among members, friendship fostering, and information exchange
・General meeting, New Year Gathering, NAPAC track meet events, and overseas inspection tours such as SEMA-related ones.
Took other actions deemed necessary by NAPAC
・These activities have been conducted through close deliberations at the board of trustees and the planning and publicity committee – expenses have been all born by NAPAC with a few exceptions.
1st Business Plan(General incorporated association)
General incorporated association NAPAC's activity promotion
Opinion exchanges with relevant regulators and entities
Cognitive of "Auto-Parts Day (2nd August)" initiatives
Promotion of "Creative Tokyo / Cool Japan" initiatives
・Expose the Japanese car customization culture to the world while making efforts to have the administrative, regulatory entities and uses alike recognize that those customizations are legal and socially acceptable.
Cognitive of "NAPAC DAY (7th,8th and 9th of every month )" initiatives with 1st Business Plan 3 and 4
Participate in campaigns to chase away illegally modifies cars
Take part in "Traffic Safety Fair" sponsored by (General incorporated association) Automobile Business Association of Japan
Organize periodical meetings at Automotive Aftermarket Action League (AAAL - consists of 7 corporate groups in the industry) while also taking active roles by AAAL's four committees (compliance, sporting, car washing day and and consider the overseas study tour).
Plan and organize tours to inspect SEMA show, and study tours in Europe.
Hold three times a year NAPAC race track meet events as a "user thanks gathering"
・The one in fall is to be jointly held with Automotive Aftermarket Action League (AAAL)
Cognitive of NAPAC's Activities initiatives as a "NAPAC DAY (7th,8th and 9th of every month)" to the members
Organize "New Year NAPAC Meeting" (NAPAC New Year Greeting Exchange Ceremony)
Exhibit at "TOKYO AUTO SALON 2018" and Osaka Auto Messe 2018" while operating NAPAC's joint sports pats booths along with provision of relevant member services.
Arrange a publicity booth to promote Super Taikyu (Endurance) Race and Japan Rally Championship for NAPAC members
Estimate the market size and generate relevant data (ASEA Business Unit)
Recruit members
Take other actions deemed necessary by NAPAC (General incorporated association)
History
| | |
| --- | --- |
| 1995 | JJA council founded by three entities, i.e., JAWA, JASMA and ASEA |
| Sep. 1996 | The 1st "AUTO-ASIA" show (AUTO-ASIA '96) sponsored by JJA council held at Tokyo International Exhibition Center (Tokyo Big Sight) in Ariake, Tokyo |
| Sep. 1998 | "AUTO-ASIA'98 Tuning & Dress-up Show" held at Tokyo Big Sight |
| Jan. 2000 | JJA council changed its name to NAPAC (Nippon Auto Parts Aftermarket Committee) with Yukio Hashimoto of JAWA appointed to its first chairman - AUTO-ASIA started to be jointly held with "Tokyo Auto Salon" as "TOKYO AUTO SALON with AUTO ASIA (2000)" |
| Jan. 2001 | "TOKYO AUTO SALON with AUTO ASIA 2001" jointly held where NAPAC booth was arranged – "New Yare Greeting Exchange Gathering" jointly held by three entities |
| Feb. 2001 | NAPCA booth arranged at "Osaka Auto Messe 2001" |
| Apr. 2001 | Nobuhide Tachi (ASEA) appointed to the 2nd Chainman |
| Aug. 2001 | NAPCA booth arranged at "Auto Gallery Tokyo" |
| Jan. 2002 | NAPAC secretariat office jointly established by JAWA, JASMA, and ASEA in Osaki, Shinagawa-ku, Tokyo / Cosponsored "TOKYO AUTO SALON with AUTO ASIA 2002" |
| Dec. 2001 | The joint NAPAC HQ established by ASEA, JASMA, and JAWA in Osaki, Shinagawa-ku, Tokyo |
| Jan. 2002 | Cosponsored "TOKYO AUTO SALON with AUTO ASIA 2002" |
| Feb. 2002 | NAPAC booths arranged in "(1st) IAAE 2002" and "Osaka Auto Messe 2002" |
| Oct. 2002 | Isao Fujitsubo of JASMA appointed to the 3rd Chairman |
| Jan. 2003 | Cosponsored "TOKYO AUTO SALON with NAPAC 2003" with NAPAC booth arranged in it (the show started to suffix "with NAPAC") |
| Mar. 2003 | NAPAC booth arranged in "(2nd) IAAE 2003" |
| Jan. 2004 | Cosponsored "TOKYO AUTO SALON with NAPAC 2004" with NAPAC booth arranged in it / "New Year Greeting Exchange Meeting" jointly held among the three entities |
| Apr. 2004 | NAPAC's Board of Directors declared its intention to implement unique dispositions to enhance its environmental regulations (against air and noise pollutions) through JASMA / Arrangements later made by ASEA and JAWA for consolidation |
| Jul. 2004 | Consolidation of ASEA and JAWA approved by NAPAC's Board of Directors |
| Sep. 2004 | Upon the group consolidation, new NAPAC HQ established in Nishi-Gotanda, Shinagawa-ku, Tokyo |
| Nov. 2004 | NAPAC Grand Meeting (for the 1st Business Year) held |
| Jan. 2005 | Became a member of Automobile Business Association of Japan |
| Jan. 2005 | Cosponsored "TOKYO AUTO SALON with NAPAC 2005" with NAPAC booth arranged in it / "New Year Greeting Exchange Meeting" jointly held among the three entities |
| Apr. 2005 | Assisted "Road Safety Action 2005" held at Palette Town sponsored by Automobile Business Association of Japan |
| Oct. 2005 | NAPAC Grand Meeting (for the 2nd Business Year) held |
| Jan. 2006 | Cosponsored "TOKYO AUTO SALON with NAPAC 2006" with NAPAC booth arranged in it / "New Year Greeting Exchange Meeting" jointly held among the three entities |
| Apr. 2006 | Assisted "Road Safety Action 2006" held at Palette Town sponsored by Automobile Business Association of Japan |
| Oct. 2006 | NAPAC Grand Meeting (for the 3rd Business Year) held |
| Jan. 2007 | Cosponsored "TOKYO AUTO SALON with NAPAC 2007" with NAPAC booth arranged in it / "New Year Greeting Exchange Meeting" jointly held among the three entities |
| Apr. 2007 | Assisted "Road Safety Action 2007" held at Palette Town sponsored by Automobile Business Association of Japan |
| Apr. 2007 | NAPAC 1st HF Business Reporting Session held |
| Jun. 2007 | "The 5th NAPAC Race Track Meet" event held at Tsukuba Circuit |
| Oct. 2007 | NAPAC Grand Meeting (for the 4th Business Year) held |
| Nov. 2007 | "The 6th NAPAC Race Track Meet" event held at Fuji International Speedway |
| Jan. 2008 | Cosponsored "TOKYO AUTO SALON with NAPAC 2008" with NAPAC booth arranged in it / "New Year Greeting Exchange Meeting" jointly held among the three entities |
| Apr. 2008 | Assisted "Road Safety Action 2008" held at Palette Town sponsored by Automobile Business Association of Japan |
| Apr. 2008 | NAPAC 1st HF Business Reporting Session held |
| May. 2008 | "The 7th NAPAC Race Track Meet" event held at Fuji International Speedway |
| Oct. 2008 | NAPAC Grand Meeting (for the 5th Business Year) held |
| Nov. 2008 | "The 8th NAPAC Race Track Meet" event held at Fuji International Speedway |
| Jan. 2009 | Cosponsored "TOKYO AUTO SALON with NAPAC 2009" with NAPAC booth arranged in it / "New Year Greeting Exchange Meeting" jointly held among the three entities |
| Apr. 2009 | Assisted "Road Safety Action 2009" held at Palette Town sponsored by Automobile Business Association of Japan |
| May. 2009 | "The 9th NAPAC Race Track Meet" event held at Fuji International Speedway |
| Oct. 2009 | NAPAC Grand Meeting (for the 6th Business Year) held |
| Jan. 2010 | Cosponsored "TOKYO AUTO SALON with NAPAC 2010" with NAPAC booth arranged in it / "New Year Greeting Exchange Meeting" jointly held among the three entities |
| Mar. 2010 | "The 10th NAPAC Race Track Meet" event held at Fuji International Speedway |
| Apr. 2010 | Assisted "Road Safety Action 2010" held at Palette Town sponsored by Automobile Business Association of Japan |
| Sep. 2010 | "The 11th NAPAC Race Track Meet" event held at Fuji International Speedway |
| Oct. 2010 | NAPAC Grand Meeting (for the 7th Business Year) held |
| Jan. 2011 | Cosponsored "TOKYO AUTO SALON with NAPAC 2011" with NAPAC booth arranged in it / "New Year Greeting Exchange Meeting" jointly held among the three entities |
| Apr. 2011 | Assisted "Road Safety Action 2011" held at Palette Town sponsored by Automobile Business Association of Japan |
| Jun. 2011 | "The 12th NAPAC Race Track Meet" event held at Fuji International Speedway |
| Sep. 2011 | "The 13th NAPAC Race Track Meet" event held at Fuji International Speedway |
| Oct. 2011 | NAPAC Grand Meeting (for the 8th Business Year) held |
| Jan. 2012 | Cosponsored "TOKYO AUTO SALON with NAPAC 2012" with NAPAC booth arranged in it / "New Year Greeting Exchange Meeting" jointly held among the three entities |
| Apr. 2012 | Assisted "Road Safety Action 2012" held at Palette Town sponsored by Automobile Business Association of Japan |
| Jun. 2012 | "The 14th NAPAC Race Track Meet" event held at Fuji International Speedway |
| Sep. 2011 | "The 15th NAPAC Race Track Meet" event held at Fuji International Speedway |
| Oct. 2012 | NAPAC Grand Meeting (for the 9th Business Year) held |
| Jan. 2013 | Cosponsored "TOKYO AUTO SALON with NAPAC 2013" with NAPAC booth arranged in it / "New Year Greeting Exchange Meeting" jointly held among the three entities |
| Apr. 2013 | Assisted "Road Safety Action 2013" held at Palette Town sponsored by Automobile Business Association of Japan |
| May. 2013 | "The 16th NAPAC Race Track Meet" event held at Fuji International Speedway |
| Sep. 2013 | "The 17th NAPAC Race Track Meet" event held at Fuji International Speedway |
| Oct. 2013 | NAPAC Grand Meeting (for the 10th Business Year) held |