ASEA Standard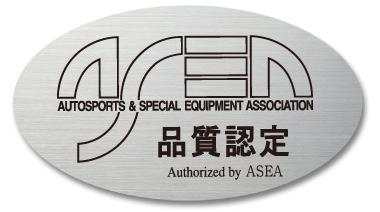 "ASEA Standard", which serves as an indicator in selecting "safe, secured, and trustworthy" sporting parts, is operated based upon two standard systems, i.e., "Registration system" and "Certification system".
"Registration system" is applicable on the condition that the applicant manufactures or distributors comply with regulatory requirements and other safety requirements set force on bolt-on attachments, replacements and safety standards to protect users. "Certification system" is applied to those items that specifically affect driving performance and safety, which requires that each item clear ASEA's unique and strict tests and evaluations in addition to the conditions set for "Registration".
Each item approved in either system or both has a "Registration seal mark", "Certification seal mark" or both of them on its main body, its outer box, or manuals.
This homepage shows its member manufacturers and distributors and their items that meet ASEA standard for your selection, purchase, and installment of sporting parts with peace of mind.
ASEA Standard Registration System

In ASEA Standard Registration System, an application is filed with ASEA on condition that the subjected item clears all relevant statutory regulations, other quality criteria and standards set by the applicant itself. After confirming its declared specifications and the like, the subject shall be registered as an item of the registered standard and have the registration cert seal mark as shown on the left on it.
Conditions for Registered Standard
Those that comply with statutory regulations and secure users' safety
Not to mention, their quality and structure shall not compromise the users' safety. In addition they shall not be made of/from any materials whose usage is prohibited by relevant laws and regulations.
Those that can be attached bolt-on and replaced
Installment and replacement of the subjected parts shall be, in principle, able to be conducted in a similar way to replacing genuine parts without a significant modification except for thru hole preparations for fixing aero parts.
Shall be in compliance with relevant security standards with all the documents attached that are required to go through Japanese Car Inspection.
Not to mention that they shall not become a subject to a traffic stop when attached on a car driving on the public roads. In addition they shall not, in principle, negatively affect the result of Japanese Car Inspection. All the documents required to be demonstrated when going through Japanese Car Inspection shall be attached to the subjected product upon sales.
ASEA Standard Certification system

ASEA Standard Certification System is based upon condition that the subjected item clears relevant laws and regulations. The subjected item is, then, to go through and pass even stricter ASEA's own "Certification Criteria" that requires even stricter tests and evaluations.
The item that meets this "Certification Criteria" shall have a cert registration seal mark on it as shown on the left.
Conditions for Certification Standard
Shall clear all the tests and evaluations uniquely set by ASEA
ASEA's Certification Standard requires the subjected item to clear additional strict tests and evaluations uniquely set by ASEA. This ensures that the subjected item objectively demonstrates its performance, quality and safety.