About JAWA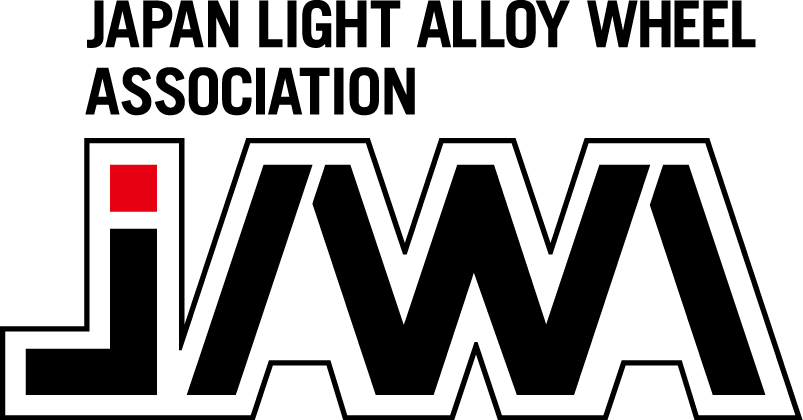 There are so many light alloy wheels available in the market.
JAWA (Japan Light Alloy Wheel Association) is the entity that maintains their safety and reliability.
More specifically, it doubly ensures the right quality and safety of light alloy wheels through conducting three 3 kinds of light alloy wheel strength confirmation tests to check to see if the subjected products meet the "Engineering standard for light alloy disc wheels" set by the Minister of Land, Infrastructure, Transport and Tourism along with additional inspections by Japan Vehicle Inspection Association. Products that have passed these strict tests earn "JAWA Quality Cert" seal mark to demonstrate their maintained and improved quality.
In addition, JAWA promotes design deposition system to prevent illegal copying of wheel designs to thoroughly ensure users' peace of mind and safety.
Positioning of JAWA Business Unit in NAPAC and its Organization and Activity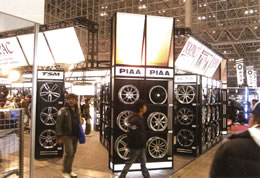 JAWA became a business unit of NPAC in 2004 with its own unchanged organizational initiative to lead its services for member companies and various activities toward further development of the light alloy wheel industry and market. Since the establishment of its former body (Sports Wheel Distributor Association) 41 years ago, the number of its members has grown to as many as 94.
In the meantime, as a business association in the industry, JAWA has expanded its scope of actions also to overseas while leading strategic public relations in a full-fledged manner.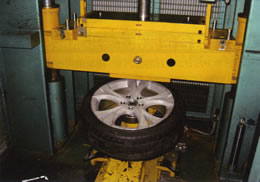 JAWA's organizational structure coexists as a NPAC's business unit with ASEA and their business units' heads (formerly regarded as chairmen) respectively represent their members.
JAWA Business Unit holds its annual Grand Meeting which is its utmost decision making body. Based upon consensus among its members, the board of trustees conducts the whole operation. Committee members elected in the board of trustees serve as heads of Plaining, Organization Enhancement, Public Relations, Wheel Design, and Distribution Committees to operate various businesses and consider dispositions to resolve outstanding issues in each area.
Purpose of Establishment
Establishment
April 1972
Purpose
This association has been founded to build out closer relationship among its members in conducting survey and research to improve and streamline production, distribution, and consumption of light alloy wheels for automobiles along with establishing a voluntary design registration system to secure the right order and discipline in wheel designing while also securing light alloy wheels' safety by (1) strictly complying with JWL and JWL-T technical standards of the Minister of Land, Infrastructure, Transport and Tourism; (2) promoting VIA Registration System; and (3) spreading JAWA quality certification for maintaining and enhancing the quality of light alloy wheels for automobiles and their reliability in the aftermarket contributing to further development of the automobile society while maintaining and improving the standard of life of the Japanese people.
Note (1) Notification of the Minister of Land, Infrastructure, Transport and Tourism regarding "Security Standard for Automotive Public Road Transporter" (Ji – 899: issued on October 1, 1983), whose appendix 1 Light Alloy Disc Wheel Engineering Standards include;
 I.Engineering standard for light alloy disc wheels for passenger vehicles (JWL) and,
 II.Engineering standard for light alloy disc wheels for trucks and buses (JWL-T)
Note(2) System requiring passing JWL and JWL-T tests of the Minister of Land, Infrastructure, Transport and Tourism conducted by Japan Light Alloy Automotive Wheel Testing Council (JWTC) to obtain VIA cert mark seal on the registered products
Note (3) A cert mark seal provided by JAWA on JWL and VIA-cert products to declare that the subjected items can be used with peace of mind for their users. PL insurance policy is also attached.
Corporate Overview
NIPPON AUTO PARTS AFTERMARKET COMMITTEE
JAWA Business Unit
ADDRESS

8-1-14,Nishigotanda,Shinagawa-ku,




Tokyo 141-0031

TEL
03-5719-9177
FAX
03-5437-6882
URL
http://www.napac.jp
Membership Conditions
Full member
(1) Those that conduct sales of light alloy automotive wheels for the aftermarket (including importers)
(2) Those that have their own product brands
(3) Those that own a corporate entity in Japan
(4) Those whose membership acquisition has been recommended by one JAWA trustee and one existing member or more.
Main Business Operation
Survey and research on production, distribution and consumption
Prevention of design copying through a design deposit system
Mediation and arbitration of disputes on design
Comply with the engineering standards of the Minister of Land, Infrastructure, Transport and Tourism (JWL and JWL-T) to secure safety while maintaining and improving quality along with promoting VIA system and spreading JAWA quality certification to expand the level of trust of the automobile industry and users.
Reporting sales results and preparing statistics
Plan and promote various actions for environment protection
Interchanges and cooperation with other relevant associations in Japan and overseas
Other businesses deemed necessary to achieve the objective of the association
JAWA Organization Chart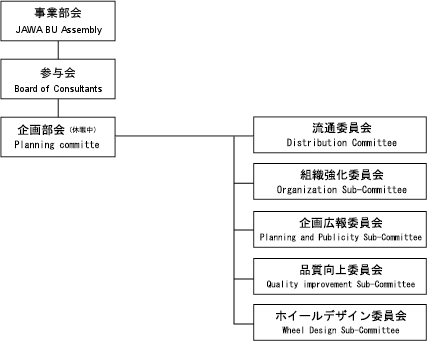 JWTC Organization Chart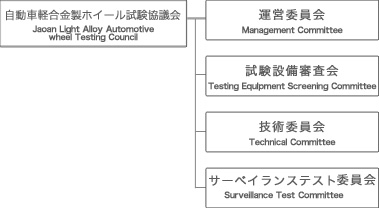 Officers in JAWA Business Unit
Business Unit Head

NAKASHIMA Keiichiro

Business Unit Vice Head

TANABE Kazunori

Business Unit Vice Head

TERADA Takayoshi

Consultant

ABE Ryosuke, IZUMIYA Yoshikazu, KANAZAKI Kenji,

KOBAYASHI Kiomi,


SHIBA Masumi, SUKAGAWA Toshikazu,

TAKISHIMA Yuji,

TANAKA Koji,
TANAKA Chika, TERADA Hiroyasu, NOSAKA Norimasa,

HORIE Yasuo,




MATSUMOTO Seiichi,

YOKOYAMA Shoichiro

Auditor

UCHIYAMA Akihiro, YAMAMOTO Teruaki

Senior Advisor

FUNADO Kazuo, SUZUKI Junichi, SHIBA Masumi